Tonight is a killer book release at CanvasLA from 8pm-11pm. It features the amazing artwork of Ichibay and Pint as well as live drawing by both artists. There are limited books available at the event, though we're hoping to be able to get a couple copies for BME shop. So don't miss out on this if you're here in the Los Angeles area tonight.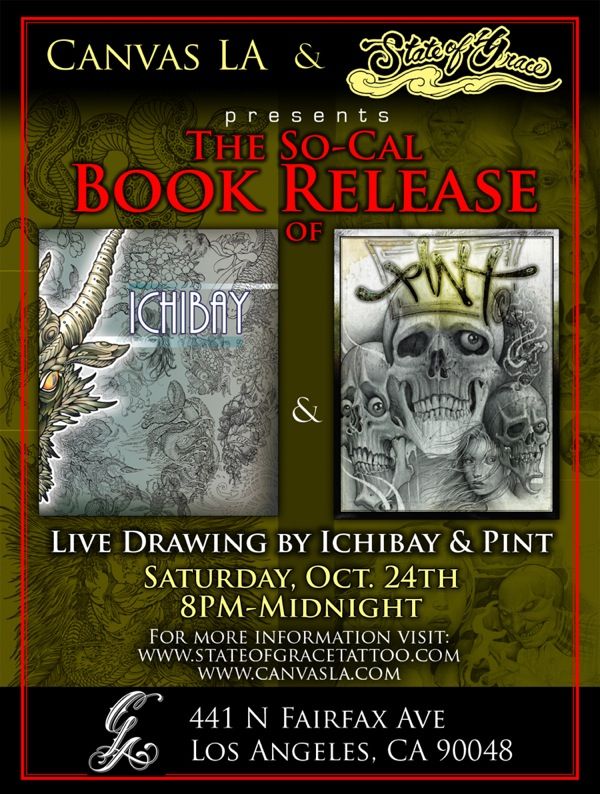 I posted about Paul Booth's upcoming Halloween event for the east coaster readers and I wanted to give the west coast a little love as well. If you're in the San Jose area, don't forget to check out the San Jose Tattoo Convention which is put on by State of Grace. Check out their internationally renowned attending artists lists and GO if you love anything about the art of tattooing and can make it out! It's well worth it! Taki puts on an amazing show that focuses on the art of tattooing at his conventions without distractions of bands, MMA or BMX etc that other promoters add to their shows.
I wish I could make it up but I'll be out in Las Vegas defending BME against the lawsuit that was filed AGAINST BME (not the other way around) after the plaintiff was found guilty of cybersquatting by a three-member panel, including an arbitrator that he hand-picked. He filed suit against us (not vice versa) and keeps trying to get us to pay him almost $100,000 for the domain.  If anyone wants to have a Vegas meet up this week, I'll be there from Monday till Wednesday!